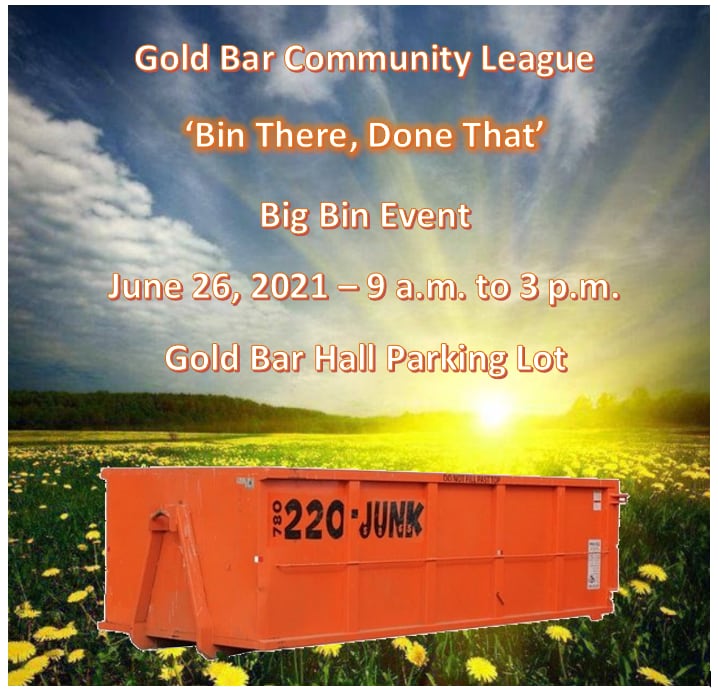 Hey Gold Bar! Come on down and bring your excess waste to the 'Bin There, Done That' Big Bin Event running June 26, 2021 from 9:00 a.m. until 3:00 p.m. (or until the bins are full).
This is an outdoor event in the parking lot of the Gold Bar Community Hall at 4620 - 105 Ave. Please enter the parking lot by the north entrance off of 105A Avenue as traffic will be one way only. 
All AHS guidelines will be followed, including masking protocols which must be worn by all attendees. 
The Bin Event is open only to residents of Gold Bar with an active GBCL membership. Please be ready to show your current membership card at the event or buy a membership online through the EFCL website, at All-Care Pharmacy, at Blue Java Coffee House or at the Gold Bar Hall during the event (cash or cheque only when purchasing at the hall).
Acceptable items

- Regular household items
- Household items that are too large or voluminous for regular garbage collection
- Excess yard waste
- Electronics waste (computers, laptops, monitors, printers, cellphones,etc)

 

Unacceptable items

 

- Household hazardous waste

- Paint and other chemicals

- Items containing freon (refrigerators, A/C units)

- Concrete, commercial waste
To make the Bin Event even more exciting there will be a community swap 'Take It, Or Leave It' space if you would like to leave gently used items for your neighbours to use.
Please also bring all computer and electronics waste for recycling by the Electronic Recycling Association (ERA). The ERA is a not-for-profit organization dedicated to reducing electronic waste through the reuse and recycling of unwanted electronic/IT equipment. All kinds of equipment is collected (computers, laptops, monitors, printers, phones,etc) and the refurbished equipment is donated to various charities and non-profit organizations. It's an amazing thing to be a part of!
Looking forward to seeing everyone there! 
On the second Tuesday of every month, with a current Gold Bar Community League Membership, you may receive a FREE hot beverage (coffee, tea or hot chocolate) at Blues Java between the hours of 7 - 11 am.  Please bring your card. There is something for everyone in the Gold Bar Community.